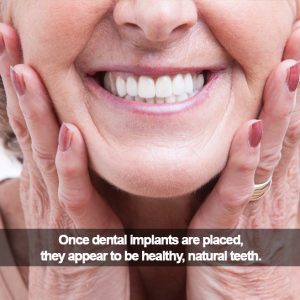 Our treatment of choice for one or more missing teeth is dental implants. Dental implants are small metal fixtures rooted in your jawbone that can support one or more replacement teeth. With over a quarter century of clinical success, Swedish and American research has proven that osseointegrated dental implants—dental implants using biocompatible materials which allow your bone to grow right up against them and fuse them in place—are effective in over ninety-six percent of all patients treated. With over 10,000 osseointegrated dental implants cases, the Dental Partners of Boston is one of the leading centers for osseointegrated dental implants in New England.
Advantages of Dental Implants
Dental implants work as an aesthetic and functional replacement for missing teeth. While there are other options to address tooth loss, such as removable bridges, dental implants are highly recommended. Some of the advantages of dental implants are:
–

Natural look:

Dental implants have no visible metal fixtures; once finished, they appear to be healthy, natural teeth.

–

Full function:

A single crown or a bridge supported by a dental implant functions like your natural teeth. You can speak, eat, and smile as you would naturally. Even full dentures are at their most secure and reliable when fastened using dental implants.

–

Permanence:

A successful dental implant becomes a permanent part of your mouth and, with proper care, should never need to be replaced.

–

Ease of care:

Cleaning dental implants is a simple process and will become part of your everyday routine.          
Installing implants
The placing of dental implants is a surgical procedure which is best performed by a periodontist. Periodontic education includes specific training with dental implants, allowing a periodontist to place them with care and precision that will provide the best chance for the implant's successful integration. After initial exams to determine where the implant must be placed and ensure you have sufficient bone mass to support it, we will place a small metal fixture in your upper or lower jaw, in the space normally occupied by the roots of the missing teeth. This fixture can support a single dental crown, a bridge to replace multiple teeth, or a fastening for dentures.
Over time, the surrounding bone will grow right up against the implant, securing it permanently. Usually, there is a period of months between the time an implant is installed and the time the crown or bridge is added, to ensure that the implant integrates properly with the bone; however, in some cases, is it is possible to install both the implant and the crown in a single procedure. If there is a waiting period recommended, you may be provided with a temporary prosthesis to use in the meantime.
Teeth in an hour
The early dental implant treatment protocols were based on the concept that an implant had to be integrated in bone prior to loading. However, an increasing number of publications and reports illustrate that one-stage surgery and immediate dental implants can be successfully used in many cases.
The advantages of immediate dental implants are easy to recognize: they allow for immediate replacement of a lost tooth without the need for a waiting period or temporary stop-gap measures.
To date, Dental Partners of Boston's implant dentists have been successfully utilizing several systems for immediate dental implants, including the Teeth in One Visit Treatment and the Teeth in an Hour Treatment.
To learn more about dental implants, including immediate dental implants, from a Dental Partners of Boston implant dentist, please contact our Boston dentist office today or request an appointment online.