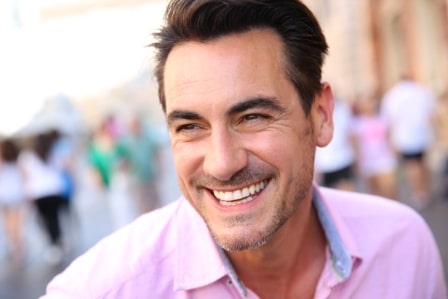 Lasers are a relatively new tool in the dental field. Laser dentistry can be used in a variety of applications, and more uses for these powerful medical tools are evolving every day. It rapidly is becoming an everyday tool a dentist office, especially at Dental Partners of Boston.

The medical laser is becoming more and more commonplace. They not only help with medical procedures but can also help dentists perform different types of dental procedures more easily. Boston Periodontist, Dr. Guzman, has benefited from the use of a laser as a versatile tool in our dental office. Some of the more common applications of lasers include:
● Preparing teeth for fillings
● Removing plaque from teeth
● Activating whitening agents
Lasers use a focused beam of light to wipe out and remove diseased or unhealthy tissue while at the same time keeping healthy tissue intact better than traditional methods such as gum grafts.

Not only have studies proven that healing times are reduced but patients like you have experienced added benefits of laser treatment as well . Because of these remarkable and beneficial results, we are seeing more and more use of lasers when treating gum disease and for re-contouring gums. When lasers are used in the correct way the procedure is faster and more comfortable for the patient with a significant reduction in bleeding, tissue damage and post-treatment discomfort. Incisions do not need to be sewn up, since they are closed by the action of the laser. They also tend to heal more quickly.

Other oral surgeries can also benefit from lasers. If you have growths in your mouth that need to be removed, laser dentistry can make this procedure less traumatic. Lasers are efficient, highly accurate, safe, and fast when used by an experienced team of dentists like those at Dental Partners of Boston. Your time in the dental chair will be more comfortable, and often it speeds up your recovery. All from the simple change of a more modern surgical tool.

If you are suffering from gum disease and have nowhere else to turn, then laser gum treatment could be the solution you are looking for. At Dental Partners of Boston we offer LANAP as a possible option for treating extreme cases of gum disease. LANAP stands for Laser-Assisted New Attachment Procedure and is a newer treatment that has been approved for the correction of advanced gum disease. If you have looked for offices who are skilled in LANAP in Boston, look no further. Dr. Guzman is a certified periodontist that can provide this procedure. He will work with you to determine if LANAP is the right choice for your unique case and will ensure you to feel comfortable with your treatment plan