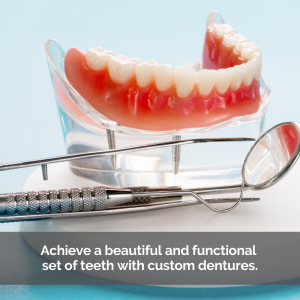 Ask the average person what they think of dentures, and most would tell you that they are a dental tool only utilized for those reaching old age. Of course, the elderly population does find thorough use in preserving their dental health and function with dentures, but there's no rule suggesting that age is a limiting factor for their use. Dentures regularly help people from all walks of life, of all ages, unlock a beautiful, preserved smile alongside all the functions we would expect from a healthy dental environment.
Dental Partners of Boston are proud to offer denture treatment for those who may not have been able to keep their natural teeth. This is considered a remedy for those who need tooth replacement, and so it's best to contact us regarding your needs via a quick and easy appointment. Also, keep in mind that dental implants are far and above the best option to semi-permanently replace missing teeth. We will go over your options based on our consultation visit with you.
---
Customer review: Highest quality, professional service!
"Thorough and easy Covid-19 safety procedures. Very knowledgeable staff. I feel I am in good hands when I visit." -Peter K.
---
Who Needs Dentures?
We all have an idea of the elderly pensioner dunking their dentures in a glass of water beside their bedside at night. Our dentists often find that those who need dentures are pleased to discover how far they have come in the last twenty years of dentistry, how functionally they serve as dental replacements, and how thoroughly hygienic they are.
The truth is, anyone can need dentures after experiencing tooth loss via gum disease, injury, or difficulties with oral health. To put it simply – there's no shame in asking about them. You've most likely met people who wear them. Thanks to how discreet and well-made these replicants are, it would be hard to tell without someone expressly informing you that this is the case.
Dentures unlock your ability to eat with comfort, to smile naturally from ear to ear, to increase your dental strength, and to regain your confidence.
What Options Are Available?
There are two types of dentures: complete and partial.
Complete dentures are full replacements for patients who may have suffered almost full or full loss of their natural teeth set. Complete dentures are created to meet your particular needs and may require removing the weakened, few teeth you have left to provide you with an easy-to-wear full set, taking into account your arch shape. Thanks to the nature of complete dentures, it's true that these are certainly the most form-fitting, custom, and reliable set of dentures.
Partial dentures are for those who still retain some of their teeth and do not need a full arch created. We take our time to ensure your partial dentures fit in with the natural lining of your teeth, filling the gaps reliably with a gum-colored base instead of with an artificial aesthetic.
Things You Should Know
As your dental situation changes for the better it can sometimes alter how you are used to speaking, as you get used to your new set of teeth. It may take a couple of weeks, as will eating foods you are used to (we recommend a slow build-up back to harder and varied food items).
We recommend semi-regularly visits to ensure your dentures are being cared for properly, remain comfortable, and retain their strength. This way, we can provide the best denture experience for you.
One appointment could be all you need to start the road to regaining confidence in your smile. We look forward to speaking with you and answering all of your questions.