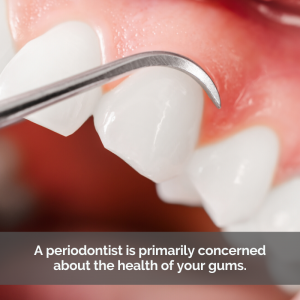 Your teeth go through a lot, and so do your gums. You will need to take care of them to ensure that you have a happy and healthy mouth in your lifetime. Here at Dental Partners of Boston, we have periodontists, gum disease specialists, who can help treat gum issues if they arise. 
At the Dental Partners of Boston, with a wide range of periodontist services and years of experience for you, we aim to ensure all of your gum disease troubles and treatment needs are met. We have the tools and the technology to help you through these times, and to help you leave our offices safe in the knowledge that your mouth is healthy. 
Recognizing The Symptoms Of Gum Disease
Gum disease has many symptoms, with bleeding gums being the most obvious and common of them all. But if you experience any of the following alongside it, be sure to get in touch with us as soon as possible: 
Red and swollen gums

Chronic bad breath

Receding gums

Sensitive teeth

Loose teeth

Pain when chewing
A we are here to ensure that you will not have to cope with these symptoms for long. There are many advanced gum treatments offered by our dentist group, to catch gum disease in its early stages, and ensure it does not progress into something more physical and dangerous for your health. 
Treating Gum Disease
In order to treat gum disease, many different and various treatments have been developed for both mild and serious cases. 
Most commonly, a root planing and scaling treatment will be used to eradicate gum disease before it can cause any real damage. However, surgical treatments also exist, for anyone suffering with further stages of gum disease that have worked down to the bone – these include soft tissue grafting and bone grafting. 
There is also a non-invasive option known as LANAP, in which a laser is used to eradicate deeper stages of gum disease from a patient's mouth. It is much less invasive than gum grafting and has a shorter healing time. We determine if a course of laser treatments is best for your situation, and our doctors are always willing to answer questions.
What's Involved In Your Periodontal Appointment
Your periodontist will work quickly to evaluate your needs. If you are suffering with gum disease issues, a deep cleaning below the gumline may be required – in a mild case of gum disease, this will be enough to eradicate the bacteria present. 
When you come in for your first appointment with us, one of our excellent periodontists, such as Dr. Guzman, will test the pockets in your gums, to ensure bone loss has not occurred, and there are no other complications to deal with. Once this examination is complete, we will then work on a plan together, to ensure treatment is right for you. 
Get In Touch
The Dental Partners of Boston offer some of the best periodontist services in the area, so you'll be in safe hands with us. Be sure to get in touch to schedule an appointment, so we can help you preserve your teeth and gums.