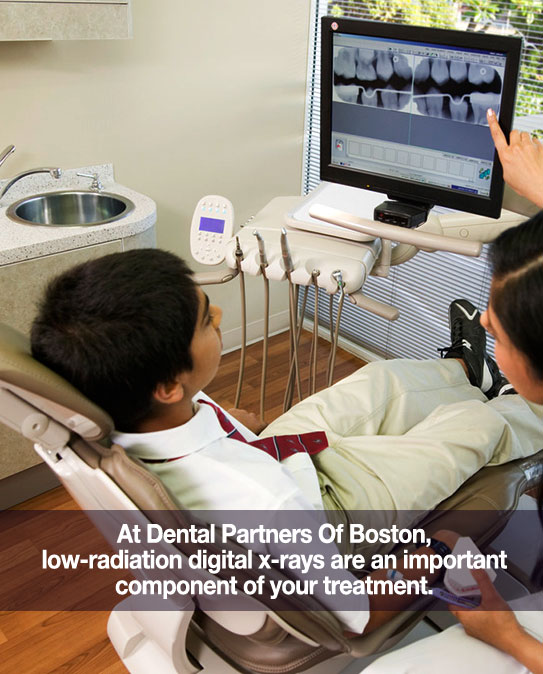 OFTEN, AN IMPORTANT PART OF YOUR DENTAL VISIT is a quick, digital x-ray to help us best determine the most appropriate, customized dental care for you.
At Dental Partners of Boston, we utilize x-rays in a number of ways—but never take x-rays just for the sake of taking x-rays. They're a thoughtful, important part of a responsible oral health care strategy. We use digital dental x-rays to:
Detect decay in inaccessible areas
Detect infection, cysts, abscesses occurring in the root system
Plan your cosmetic or reconstructive work by getting an idea of tooth structure both above and below the surface
Here at Dental Partners of Boston, we think it's important to make sure our patients are getting the most from their x-rays and exams. That's why we stay abreast the newest technology. With our low radiation, digital x-ray system, our patients benefit from the very latest in dental radiography.


How Digital X-Rays Help You
They're safer. Digital x-rays use half the radiation of traditional x-rays so you never have to worry about overexposure to radiation.
They're faster. You don't have to wait for the film to develop to get your diagnosis. We can read the images as soon as we take them.
The photos are better. Our digital x-rays get an even better image of your mouth. And because it's digital, we can enhance the photos, zoom in, and duplicate easily.
So whether you're in for a routine check-up, or preparing to have a procedure done, you can be confident that you're getting the best care possible. Between our team of specialists and our advanced technology, you're in good hands.
Thanks, as always, for being our valued patient!