Restorative Dentistry in Boston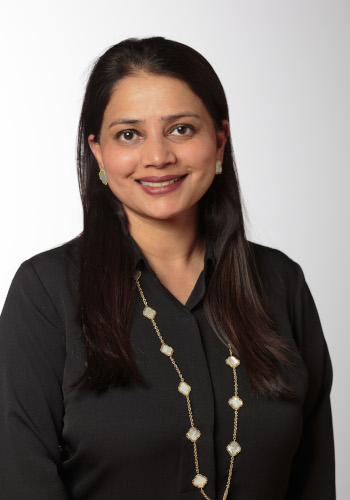 Divya Bhargava
D.M.D., C.A.G.S.
Dr. Divya Bhargava received her D.M.D and a Certificate of Advanced Graduate Study (C.A.G.S) from the Advanced Education in General Dentistry Program (A.E.G.D.) at Boston University's Henry Goldman School of Dental Medicine.
Dr. Bhargava has been in private practice since 2001. She worked in the United States and Mumbai ( India ), and Singapore when her family moved due to her husband's international assignments. While working and living in Asia was a fabulous opportunity, it also broadened her view of dentistry. She's been an active executive member of the Aesthetic Dentistry Society Singapore (A.D.S.S), helping organize many conferences and continuing education courses.
"I'm passionate about dentistry and strive to give all my patients the highest quality of care. I'm fortunate that I can help people by enhancing their smile, restoring form and function, and thus improving their quality of life."
Clinically Dr. Bhargava's skill set includes full mouth rehabilitation, restoring teeth with ceramic veneers, crowns, inlays, onlays, and dental implants. She also treats various conditions like Sleep Apnea, Snoring, and Temporo-Mandibular Joint disorders.
Dr. Bhargava uses Digital Dentistry and a team-based approach to provide comprehensive dental care for her patients.
Dr. Bhargava is very excited to be a part of Dental Partners of Boston and is looking forward to taking care of your dental needs. She is a member of many dental organizations, including The American Dental Association and The Academy of General Dentistry.
If your teeth aren't where you want them to be,
schedule an appointment for a complete smile makeover today!
PERFORMED SERVICES
COSMETIC DENTISTRY
GENERAL DENTISTRY
PREVENTIVE DENTISTRY
SPECIALTY DENTAL CARE