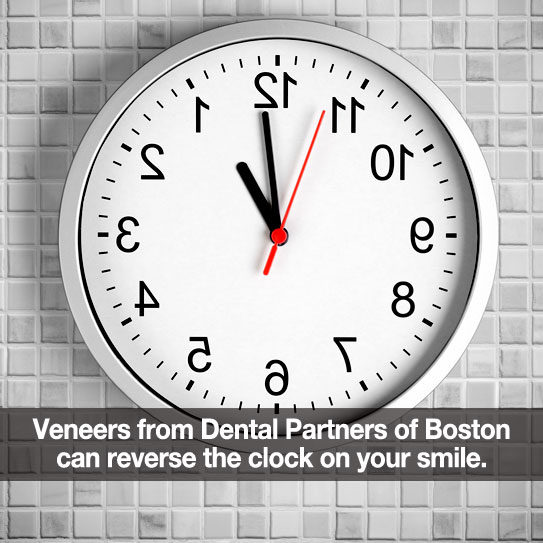 A LOT OF GREAT THINGS come with age—things like wisdom, maturity, and perspective. However, some changes are less welcome—like wear and tear on your smile, for example.
The Effects Of Aging On Your Smile:
Although good diet and a faithful dental hygiene regime can help you resist the negative effects of aging on your teeth, there are some things that happen despite our best efforts. Fortunately, some care from Dental Partners of Boston can help!
Staining
Over time, pigments from food and drink like coffee, or curry, can accumulate and dim the natural shine of your pearly whites.
Chips And Cracks
Little chips and cracks may not be unsightly enough, or painful enough, to prompt you to get them taken care of right away. But over time, they can give your smile a worn, aged appearance
Lost Volume In Facial Structure
As we age, and teeth become more worn and thin, it may gradually come to seem like your face sags inward. This can be especially apparent around the lips.
Veneers Can Solve All Of These Problems
Many turn to plastic surgery and other drastic methods to reverse the effects of aging. But for some, the problem can very simply be fixed with veneers from Dental Partners of Boston. Veneers cover your teeth with a thin layer of porcelain laminates, thereby brightening stained teeth, covering cracks and chips, and building out the tooth structure.
Dental Partners Of Boston Is The Perfect Place
Our CEREC method allows us to plan and sculpt beautifully-fitting veneers right in the office. And our dentists are trained in the latest methods to give you the very best care possible.
We use Lumineers, minimal-prep veneers that aren't invasive. They allow you to keep your natural underlying tooth structure, and they can be placed quickly and efficiently.
Ask us about a smile makeover consultation. With veneers from Dental Partners of Boston, you can achieve a smile that's as youthful and beautiful as you feel!