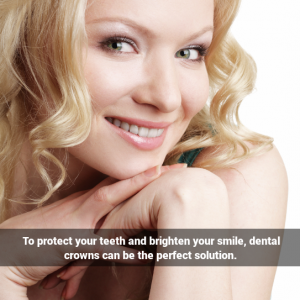 Do you have teeth that are damaged, uncomfortable, or unstable? If so, your Boston cosmetic dentist at Dental Partners of Boston might recommend a dental crown. A dental crown is a tooth-colored cap that covers the visible portion of your tooth.
How They Work
Teeth have a sensitive inner core called the pulp. This portion of the tooth consists of small blood vessels, nerve bundles, and soft tissue which are usually protected by the harder dentin and enamel. Unfortunately, injury or dental decay can leave this chamber vulnerable, painful, or even severely infected.
If your tooth is infected, we might recommend a root canal, which involves removing this infected inner pulp chamber. Although the removal of this inner pulp immediately stops dental pain and can help alleviate the infection, root canals can make the teeth more brittle. For this reason, dental crowns are always needed after root canal therapy to stabilize the tooth structure.
Teeth may also need crowns if they're fractured, damaged, or discolored. Crowns help to strengthen the portion of your tooth that is subjected to bite force so that you can eat normally without subjecting your teeth to additional damage. Crowns are also used to cosmetically repair teeth.
Procera AllCeram Crowns
Although modern dental crowns are indistinguishable from the naked eye, this wasn't the case with older types of crowns. Porcelain fused to metal crowns, also called PFM crowns, had a small metal band at the base where the metal inner core was visible. Unfortunately, this band tended to stain the other teeth or make the restored teeth look gray.
Patients today have access to fully ceramic crowns, which are hypoallergenic, completely natural-looking crowns that are milled from a single piece of porcelain. Procera AllCeram crowns are much more durable than ceramics of the past, as they are designed with flexion strength to handle normal biting and clenching. Procera crowns are designed with computer-aided drafting programs, so they match the shape and aesthetics of your teeth perfectly. Also, Procera crowns are created to be exceptionally smooth, so they don't grind against opposing teeth like some other types of crowns can.
If you think that you might need a dental crown, contact Dental Partners of Boston, your practice for cosmetic dentistry in Boston.