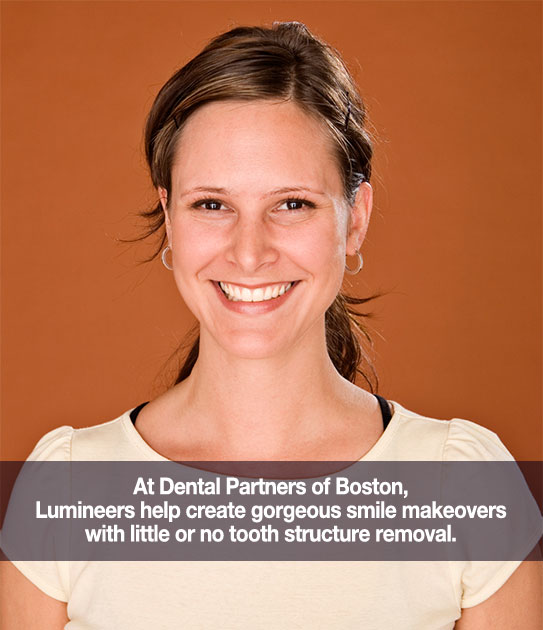 HERE AT DENTAL PARTNERS OF BOSTON, WE UNDERSTAND THAT a bright, beautiful smile can make all the difference when it comes to confidence and self esteem. This is why all our doctors are committed to helping our patients achieve the smile they've always dreamed of—and Lumineers may be just the way to do that!
Lumineers are porcelain dental veneers with a twist. Unlike regular veneers, these thin smile shapers can be applied to your teeth without any shaving or grinding down—offering patients a painless way to a permanently white and perfectly aligned smile.
By replacing the popular pressed ceramic products with a traditional porcelain build-up technique, our team is able to make shade changes, correct orthodontic problems, and make other cosmetic improvements while removing a minimal amount of patient enamel.
Lumineers can be placed over existing dental crowns or bridgework without having to replace them. They are also quite aesthetically pleasing because they block out undesirable colors and allow the beauty of the natural teeth to shine through. In only two easy dental visits, you can have a painless, permanent cosmetic solution for stained, chipped, discolored or misaligned teeth.
If you are wondering whether or not lumineers are the solution for you then set up a smile consultation today! One of our doctors would love to go through your options with you.