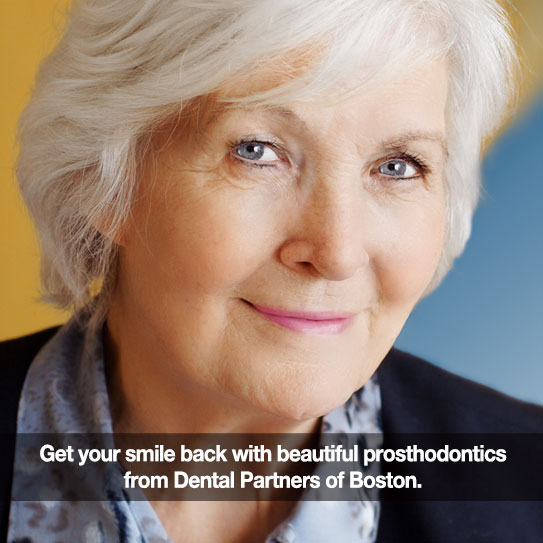 DID YOU KNOW THAT TEETH are the only part of our body that doesn't repair itself? Skin, muscle, and even bone can heal, but a hole in your tooth won't be repaired simply with time. That's where prosthodontics comes in.
Prosthodontics are simply dental prosthetics: artificial insets that take the place of missing, stained, or damaged teeth. Here at Dental Partners of Boston, we offer many different prosthodontic procedures.
Prosthodontics Can Renew Your Smile
Prosthodontics focuses on maintaining and rehabilitating the health, comfort, appearance and function of our patients' teeth. In order to achieve the very best results in aesthetics and function, our prosthodontists are trained to construct customized options that will perfectly blend with your natural teeth. It's an art as much as a science.
We Offer A Variety Of Methods To Suit Your Individual Needs
In order to give our patients the best care possible we offer many different types of prosthodontics. This includes anything from cosmetic fixes like dental veneers to functional restorative dentistry where we may use dental bridges, inlays or onlays. You may find yourself needing only a small fix that can be achieved with a dental crown, or it may be time for complete mouth reconstruction, or a smile makeover. Whatever you need, we can help!
How Do I Know If Prosthodontics Are Right For Me?
We see many patients who believe that they are simply doomed to hide their teeth–and their pain–for the rest of their life. But whatever your dental problem, we have a solution! Prosthodontics can drastically increase your quality of life and confidence.
Contact us today if you think prosthodontics might help repair your smile.  We would love to help you get the smile you deserve!
Thanks for being our valued patients and friends. We appreciate you!