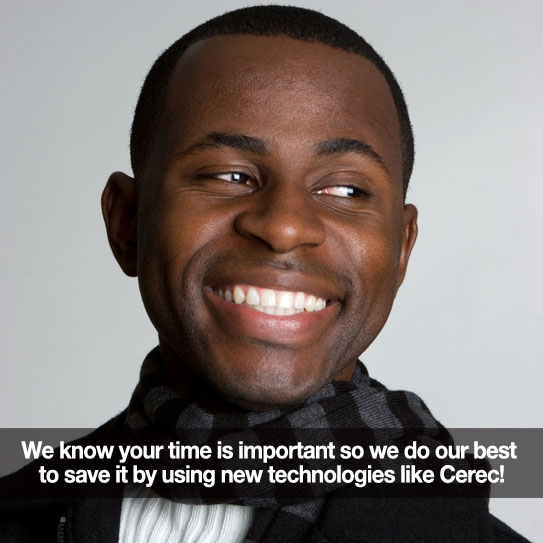 WE KNOW HOW BUSY YOU ARE. We know you don't want to schedule three different appointments in order to get a crown on that tooth. It's both a hassle and a huge loss of time!
We Have CEREC® Single-Visit Crown Technology
Great news! At Dental Partners of Boston, we have the technology to give you back your time with very little hassle.
You won't need to wear a temporary crown or come back for a second appointment. We can create and place the crown on your tooth within just a couple of hours. With CEREC® technology, we'll give you a crown in just one visit.
CEREC® Is A New And Exciting Technology
CEREC®, CEramic REConstruction, is a product that allows us to create a crown that matches and fits your teeth while you are still sitting in our chair. It uses 3D technology to build your ceramic crown while you wait.
It's A Simple Process
First: Your tooth is photographed and saved as a 3D digital model. This model is used to create the shape of the crown using comparisons of the surrounding teeth.
Second: Once the model is perfect, it is immediately sent to the milling unit which creates the crown using a ceramic block.
Last:The crown is bonded to your tooth with a resin cement.
Questions? Just Ask!
Here at Dental Partners of Boston we keep up to date with the most advanced technologies so we might provide you with the highest quality of dental care.
If you have questions or are interested in CEREC® Single-Visit Crowns, contact us.