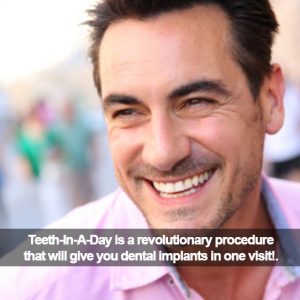 Teeth-In-A-Day is a revolutionary procedure that allows patients to receive dental implants in a single office visit instead of multiple visits over months. It allows for patients with a healthy jawbone to receive instant dental implants and improve the aesthetics and use of their teeth. Here is what makes teeth in an hour superior to traditional dental implants:
-Unlike dental implants which is a process that can take months, teeth-in-an-hour literally only requires a one office visit to complete.
-The procedure is incision free; requiring no sutures.
-After the procedure, you can almost immediately begin utilizing your new teeth (ex. eating).
Is a Teeth-In-A-Day Right for You?
We can't guarantee that every patient will be right for this procedure; a pre-assessment has to be done proper to receiving Teeth-In-A-Day. However, if you would be a candidate for standard dental implants, you will generally be a candidate for Teeth-In-A-Day. The procedures accomplish the same thing, they're just different in the technical aspects of it. Here is a short list of some of the benefits:
-Functioning and aesthetically pleasing teeth.
-Teeth are tailored to fit your individual and unique mouth perfectly; partial and full restorations are available.
-Minimal pain, swelling, and discomfort after the procedure.
-A natural look and feel to your new teeth.
How is the Procedure Performed?
An initial evaluation is performed on a patient to make sure that they're a good candidate for Teeth-In-A-Day implants. From there, CT-scans are done so that this data can be utilized for planning. At that point, this information is sent to a lab to have the implants created. Once they have, one of our talented doctors, Dr. Guzman, can then do the installation process on the patient; the plants are guided through precision drilling allowing for immediate implant placement.
Get an Appointment
Now that you've learned a little more about the procedure, hopefully you can see the benefits of utilizing Teeth-In-An-Hour for patients who require dental implants. If you want to make an appointment for a Teeth-In-A-Day procedure or if you would like to schedule another dental procedure, we will be able to accommodate your request. We are also available to answer any questions you have regarding Teeth-In-A-Day or other services offered by Dental Partners of Boston. We strive to provide the best dental care possible to the residents and patients of the Boston, MA, area!