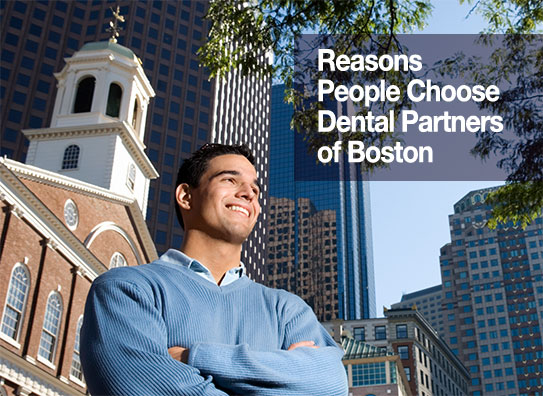 IT'S NO SECRET THAT THERE ARE DENTAL PRACTICES all over the Boston area. So what sets Dental Partners of Boston apart from all the rest?? Why should you come to us for all your dental needs? Well, let us tell you!
One of the most unique features of our practice is that we really do offer full service—we have a dynamic team of doctors that specialize in every aspect of dentistry. So, whether or not you need a root canal, dental implants, gum disease treatment, wisdom teeth extraction, or teeth whitening, we can assure that you will see a specialist for that particular need! We know—it almost sounds too good to be true! Visit our website and check out all our dentists' profiles. You'll see that we really do have specialists on anything from periodontology to orthodontics!
This breadth and skill across every facet of dentistry lets Dental Partners of Boston offer you what no other practice can— a 100% worry-free environment.  Here you can receive the ultimate dental care experience, all in one place, giving you the convenient benefit of coordinated care. It's this one-stop, comprehensive dental care that keeps our patients returning year after year.
In addition to our specialized care, you can further be assured that a visit to our practice will also include:
State-of-the-art technology
A caring and highly competent professional team
A comfortable, spa-like environment
Thoroughness and quality care.
Gentleness and concern for your individual needs
As a testimony to our unique combination of art and science,
Dental Partners of Boston
was ranked #1 in a patient survey of dentists across the country.
Our Dentists
have been awarded "America's Top Dentists" by the Consumers' Research Council of America and our Boston office was featured as "Practice of the Month" in the 2006 issue of a leading industry periodical.
So, what are you waiting for?
Give our practice a call.
We promise you will be in the best of hands, and we'll take good care of you and your dental needs!