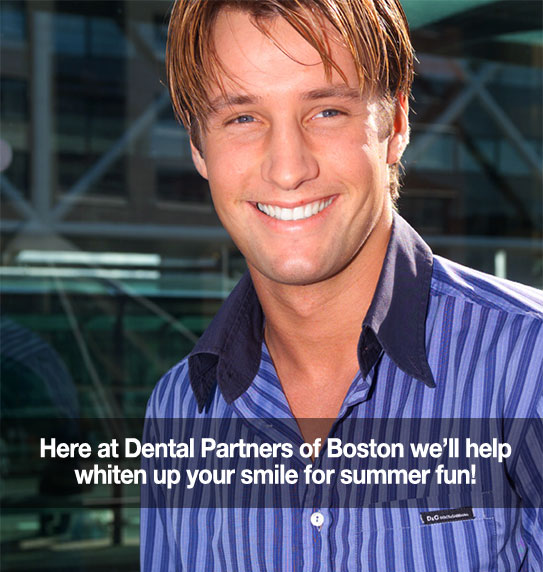 SUMMERTIME IS THE SEASON to let those pearly whites show. But if you're worried that your smile isn't quite so bright as it once was, we want you to know that you have plenty of options here at Dental Partners of Boston.
Not only do we have in-office BriteSmile or Zoom! treatments available, but now you can also select an at-home whitening kit. At-home kits are the perfect way to snazz up your smile and shake off the winter doldrums.
Here's How It Works: 
First, you come in for a tray-fitting. We'll take an impression of you upper and lower teeth and make custom whitening trays. These will hold the whitening solution against your teeth without exposing your sensitive gum area.
After we have your trays crafted, you can sit down with one of our cosmetic dentists to discuss how to use the whitening tray and solution at home. We'll set up a plan of when and how long you'll wear your at-home whitening trays so that you can get your ideal results without interrupting your life.
Here Are The Perks:
At-home tooth whitening is less expensive, it's safe, and it's convenient for your busy life. In no time you'll have the show-stopping smile you've always dreamed of.
Our team of professionals is dedicated to making sure you love your smile. If you want to discuss whitening options, contact us to set up a consultation. If you just want to talk about it, leave us a comment below or on our Facebook page. We love your feedback.
Thanks for the trust you put in our practice!