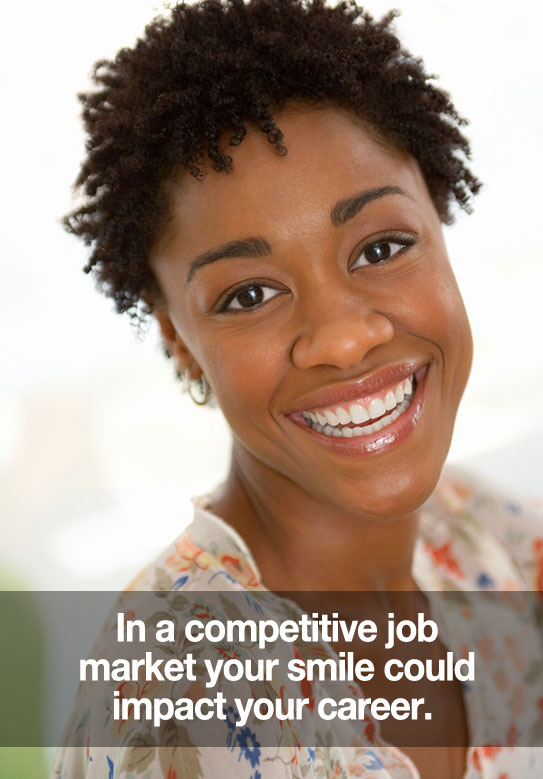 YOU KNOW THAT A BEAUTIFUL SMILE helps you feel and look good. You may even know what it does for your love life. But did you know that it can have a major impact on your professional life?
With the competitive job market today, people are wondering how to get an edge in the field. Well, studies are showing that your smile could be the tipping point.
You wouldn't believe what people assume from a simple glance at your smile. Smilers are perceived as more friendly, more confident, and more intelligent. Your pearly whites could be your biggest asset in an interview or a big presentation.
Some Cosmetic Work Can Make Your Smile's Impact Even Bigger
And while you're smiling, keep in mind that a straight, white smile can have an even bigger impact. In a study of over 1000 Americans, people with straight teeth were assumed to be more healthy, more successful, and more trustworthy.
And white teeth? Listerine did a study finding that white teeth in a job interview may even be more important than how you dress.
Questions? Talk To Us
If you're ready to put your smile to work for you, let us know. Here at Dental Partners of Boston, we offer a full range of cosmetic treatments, from veneers or Invisalign, to at-home whitening. A smile consultation with us can open up your professional opportunities and boost your confidence and success.
And remember that more than anything, the best thing that you can do for your smile and your positive attitude is to keep your smile healthy. Brush at least twice a day and keep coming to your biannual cleanings.
As always, thank you for being our valued patient!