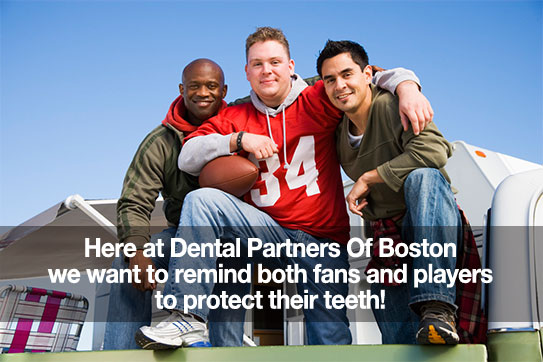 IT MAY BE COLD OUT THERE, but that doesn't stop the true sports fans from getting in the game. While you're out there, though, Dental Partners of Boston wants to make sure that you're aware of the risks to your oral health.
How Important, Really, Is A Mouth Guard?
It's really important. Think about it: what's more expensive—a mouth guard or treatment for a dental emergency?
Many people just take a chance, assuming they won't be unlucky enough to lose a tooth. But check out these stats:
You have a 10% chance of sustaining an orofacial injury each season that you're playing a contact sport.
Throughout an athletic career, your chances are at least 1 in 3.
So don't risk it. Ask us about sports guards. There are plenty of options out there to suit your needs.
A Reminder About Sports Drinks
Sports drinks can be as harmful as soda. They're just as sugary and acidic, and because of timing, they can cause even more problems. You drink sports drinks when you're dehydrated. But when you're dehydrated, you're probably experiencing dry mouth—a lack of protective saliva in your mouth to rebalance the pH level in your mouth.
So drink your sports drinks before you get hydrated, not after. Rinse them down with water, and opt for water when you're off the court.
And A Special Note For Swimmers
For those who spend more than 6 hours a week in the pool, there may be a risk of swimmer's calculus. This is caused by overexposure of your teeth to chemically-treated water. It causes increased tartar deposits, usually on your front teeth. If you're finding the telltale signs of swimmer's calculus, don't worry! A simple cleaning by our team can usually clear it up completely.
Questions? 
If you have any questions about the oral health risks associated with sports, ask us. And remember, should a problem happen, we're available to help with your dental emergencies.
Thanks for your trust in our practice. We're grateful for patients like you!