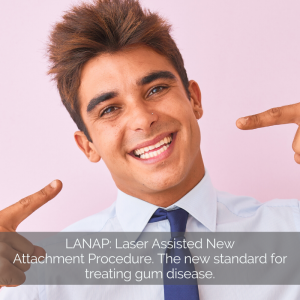 Unfamiliar terminology is one of the primary sources of fear affecting millions of patients ahead of their proposed dental treatments, which is why familiarizing yourself with the latest terms is one of the most effective ways to settle the nerves and make smarter choices regarding potential dental work. LANAP is a term that you may have encountered before, but what is it?
What Does LANAP Stand For?
LANAP is a type of dental therapy that has been available since 1994, becoming increasingly accessible and advanced over the past 25 years. The acronym itself stands for Laser-Assisted New Attachment Procedure.
The surgical procedure is primarily used to treat periodontitis, focusing on restoration rather than resection. This treatment is commonly referred to as LAR (Laser-Assisted Regeneration) or LANAP-LAR. 
LANAP isn't available to all sufferers of periodontitis, which is why a Periodontist needs to assess the situation to make the best recommendation for the patient's particular situation. The majority of gum disease cases can now be treated with advanced LANAP processes.
Why LANAP Over Traditional Surgery?
LANAP has become a popular treatment choice for many reasons, not only because the treatments have become more accessible and affordable over the years. Other incentives for considering LANAP include:
LANAP does not require scalpel, sutures, or cutting the gums to reduce the pocket-size of the affected gums and jawbone. As such, the gum line is less likely to be compromised by recession.

LANAP is shown to be less painful than traditional surgery due to the use of lasers and without the need to cut the gums. Aside from reduced discomfort, this can put a patient's mind at ease.

LANAP treatments are rarely followed by medication while the selective removal of tissue also means there is less tissue to heal. Patients are back to their best in no time.

LANAP protocols allow Periodontists to make far more accurate predictions about the outcomes due to the highly advanced technologies and ultra-accurate procedures.

LANAP produces long-term results, restoring function and appearances for the patient through regeneration processes that will last a lifetime. It can also save teeth that may not have been savable in the past.
How LANAP Works
LANAP treatments are FDA-cleared, allowing you to feel assured the procedure is safe and will provide optimal results. It encourages true periodontal regeneration through new bone growth and tissue reattachments. To do this, it uses a specialized PerioLase MVP-7 laser, which has seven settings to target the inflamed gums without causing damage to healthy gum tissues. It also enables the body to recover naturally. 
Gums can become restored and regenerated by removing the unhealthy tissues, which will subsequently allow new healthy tissues to grow. When followed by the right oral hygiene and aftercare, patients can reap the rewards for an entire lifetime. 
Schedule An Appointment Today
Our Boston Periodontist Sergio A. Guzman D.M.D., M.S.D. and the rest of the team at Dental Partners of Boston provide LANAP treatments along with a range of other dental procedures and invite patients suffering from periodontal disease to arrange a consultation today.  Schedule your consultation today!