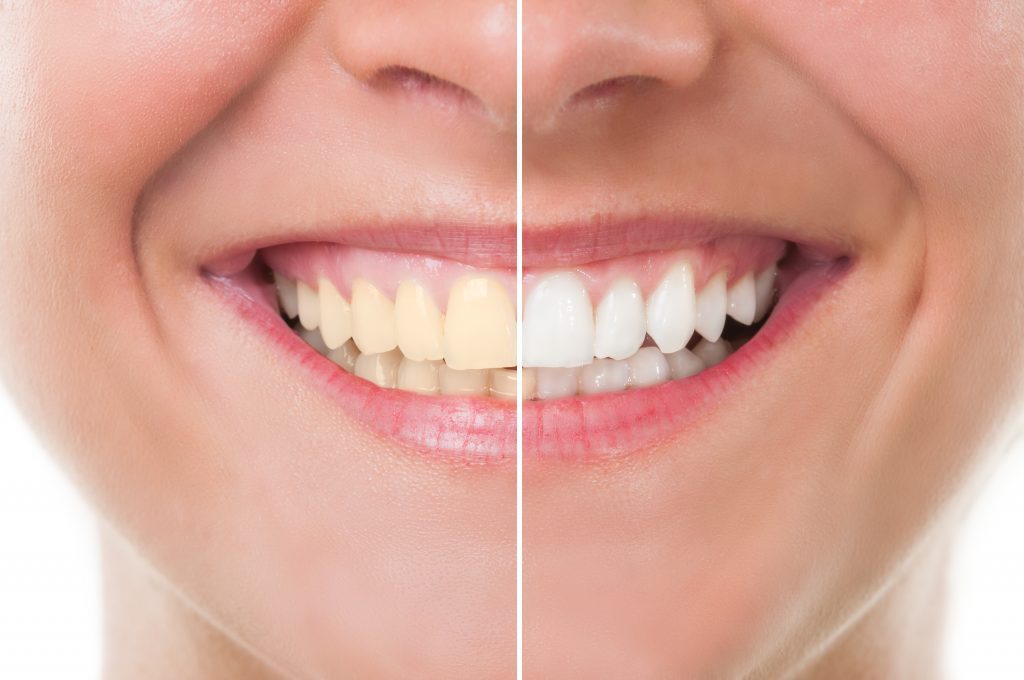 Everybody loves a bright, white smile and there are a variety of products and procedures available to help you improve the look of yours. If you decide you would like to go beyond just the white that comes from brushing regularly and make your smile look brighter, look in to all the options for teeth whitening that Dental Partners of Boston has available:
Take-Home Teeth Whitening
Dental Partners of Boston provides custom take-home teeth whitening trays. These trays are made with custom impressions of your teeth. We'll help you determine how many shades brighter you want your teeth and adjust the amount of whitening gel used in your trays.
In-Office Teeth Whitening
The in-office teeth whitening method we provide is a one-time procedure that usually can take less than an hour to complete. There is an initial exam and then preparations are made for whitening your teeth. We will use a stronger whitening gel than in the take-home kits. The average patient can see an improvement of several shades in one visit.
This product comes from Phillips and is a great way to get the amazing smile you are looking for. At Boston cosmetic dentistry we often recommend this to our patients as it is the #1 patient requested brand of teeth whitening products. We apply this treatment on site or fit a tray that is customized to your individual mouth and have you apply the product at home. Fast results are often seen as well among our patients. This product comes in different ranges with different strengths so we can work together to find the best one for you.
The BrightSmile Whitening System by Discus Dental is also an available option that we offer. This is another system that is requested by patients and as astounding results. In some cases patients have had results where their teeth whiteness has gone up to eight shade whiter. This product is a hydrogen peroxide based gel and is applied to your exposed teeth. The gums, lips etc are protected during this procedure. Once the gel is applied an infrared light is applied to the teeth to accelerate the whitening process. The process takes about an hour.
After Teeth Whitening Care
Once you have chosen a teeth whitening procedure whether it is at home or in our office the aftercare is very important. If you are using a tray for daily treatments what you eat and drink can have a big impact on your results. If you have chosen an in office method the 48 hours afterward are important and can enhance and maximize your whitening results for a long lasting, bright and healthy smile.
Here are some dark staining substances that should be avoided during the crucial 48 hours or during the in home whitening system:
Red wine, Cola, Coffee and tea

Berries such as cherries, blueberries and strawberries

Tobacco products

Red sauces, mustard or ketchup, soy sauce.
If you do consume any of the above products it is important that you rinse immediately after consuming them.
Follow good oral hygiene practices. Brush your teeth at least twice daily. Floss at least once daily to remove plaque, and rinse with an antiseptic mouthwash at least once a day to kill bacteria that causes plaque. Use a whitening toothpaste (once or twice a week only) to remove surface stains and prevent yellowing. Use a regular toothpaste the rest of the time. If there are any concerns or questions you have our office is always open and someone from our team can answer any questions you may have.
Consider Touch-up Treatments
Depending on the whitening method used, you may need a touch-up every 6 months or after a year or two. If you smoke or drink lots of stain-causing beverages, you may need a touch up more often.
If you are looking in Boston for teeth whitening consider Dental Partners of Boston. We will work together with you determine the best product for you based on your needs, lifestyle, dental history, and budget. We want you to have amazing results and we know we can get your teeth looking their whitest and brightest.  
Schedule An Appointment
Schedule an appointment with us today for your teeth whitening treatment. You will notice a significant difference in your confidence, amount that you smile, and the way that you'll feel.